Meet Our Associates
Lauren

Senior Manager, CRM, Allen Edmonds

Kris

Representative, Order Management

Dottie

VP, Brand Strategy & Creative Development, Sam Edelman

ToccaraDistrict Sales Manager,
Famous Footwear

Eduardo

Senior Creative Director, Allen Edmonds

Katie

Senior Director, Design, Dr. Scholl's

RJ

Systems Engineer Lead, Information Technology
Our Culture & Benefits
Pension &

401(k) Plans

Yes, you read it right. We offer our Associates retirement benefits through company-funded pension and 401(k) savings plans.

Health Plans

Competitive medical, vision and dental coverage is available on your first day—no waiting required. Choose from four United Healthcare plans to fit you and your family's needs.

Discounts

Our Associates enjoy 30% off our brands. We offer savings on gym memberships, hotels, mobile plans, and products from Apple and Microsoft.

Health & Fitness

We offer an on-site fitness center, various clubs supporting active lifestyles and a team devoted to keeping our company educated and fit.

Time Off &

Holidays

In your first year, you are eligible for up to 26 days off including paid-time-off days, holidays and office closed days.

Look Fashionable

We are a fashion company. Our Associates dress for their day, and are on-trend, in work-appropriate styles.

Education

Assistance

We encourage you to continue developing your career through degree and certificate programs. Education Assistance is open to Associates twice a year.

Café & Refresh Stations

Our café is open for breakfast and lunch. Refresh stations located throughout our campus include FREE soda, coffee and fruit infused water.

Caleres Cares

We applaud those who give back. We offer opportunities to volunteer throughout the year and a charitable match program that allows Associates to double their impact to causes they are passionate about.

On-site Amenities & Services

We know your time is valuable. That's why we provide several on-site amenities & services including dry cleaning pick-up, print center, mail center and ATM.
Note: Not all benefits are available to all Associates or locations.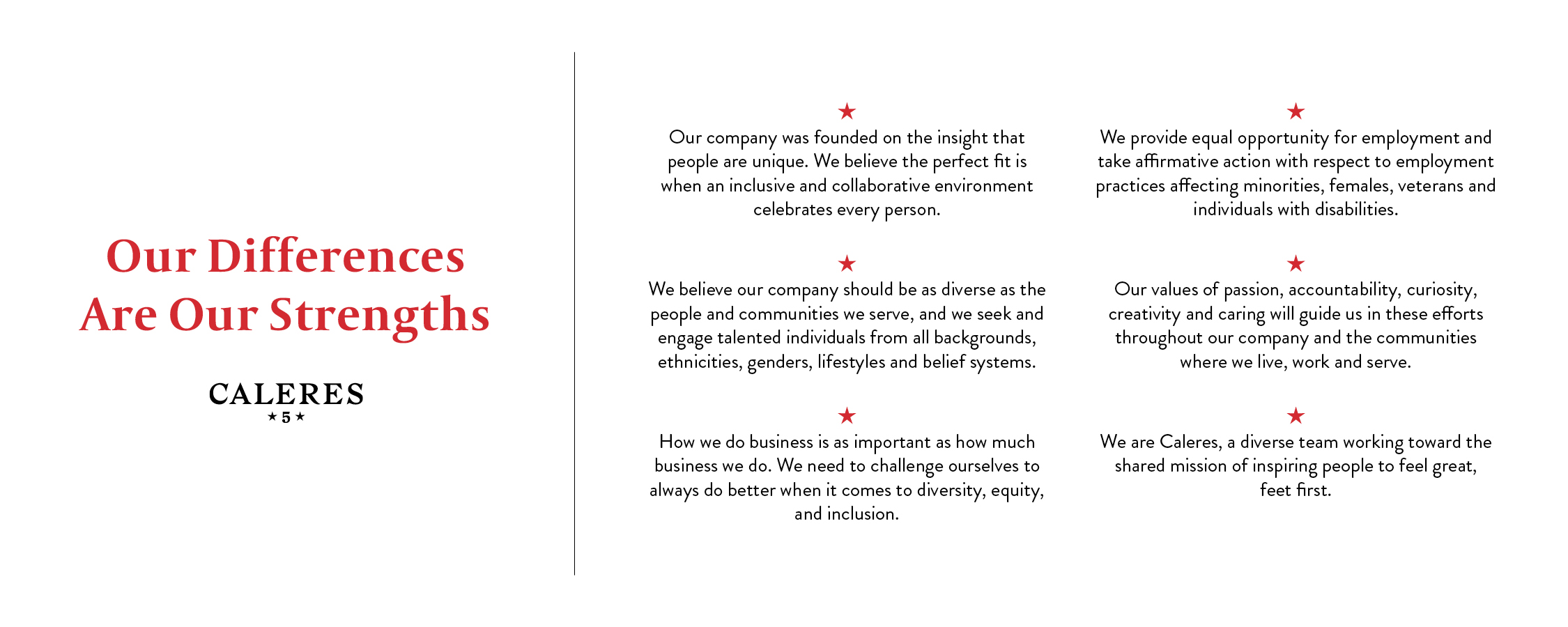 Our Hiring Process
Ready to start your career with Caleres? Whether you're starting your search or preparing for an interview, we want you to have insight to each step in our hiring process.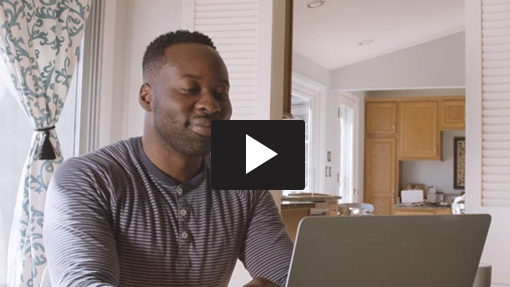 STEP 1: Application

Found the perfect position?

The first step is completing our online application. If you've already registered, sign in with your username and password. If it's your first time applying with us, choose Register to create your account.

You can import your education and work history from your LinkedIn profile or resume. You'll be asked to fill in your personal contact information, and if not pre-populated by your resume, details of your education and work history. (The government requires us to ask you a few additional questions, too.)

At any time you can save your application and come back to complete at another time.

STEP 2: Assessment

Why do we assess?

The assessment lets you tell us how you prefer to work, and helps us find your fit!

Plan to spend about 20 minutes. Some jobs require a 10-minute timed section. For all other sections, you can stop and return to complete later. You'll receive a confirmation email when your application and assessment are both complete.

STEP 3: Video Interview

Why a video interview?

If you're selected to move to the next round, we'll email you a link to your video interview.*

Video interviewing allows us to get to know you better than a chat on the phone. You can tell your story in a much more personalized, dynamic way. And you can interview anywhere, anytime that's most convenient for you.

Check out these tips and resources to help guide you through the process: What's a video interview?

*For some roles, we may conduct this round of interviews over the phone.

STEP 4: In-Person Interview

We want to meet you!

After we review your digital interview, if you're selected as a top candidate, we'll be in touch within a week to schedule in-person interviews.*

We're excited to get to know you and find out if you're a fit for our team! You'll typically meet with your potential manager and a member of our talent team. Bring your questions—this is your opportunity to learn more about the role and our chance to hear more about you.

We may invite you to come back a second time to meet with additional members of our team.

*In some cases, we may meet with you via a live video interview.

STEP 5: Offer

Congratulations, you've found your fit!

After accepting your offer, your manager and Talent team will stay in touch and make sure you know what to expect on your first day. We develop a customized onboarding experience for each of our Associates and can't wait for you to get started!

Not offered the position? We hope you'll stay in touch! Through our career site, connect with us on social media and sign up for job alerts to learn about the latest open positions that might be a fit.

Thanks for joining us in our mission of inspiring people to feel good, feet first!